Dear Friends

As you will have read in the special mailing sent yesterday we are temporarily moving St Bartholomew's to the Community Centre. One thing that wasn't clear in my email yesterday was this move doesn't affect baptisms, weddings or funerals and these will continue to take place in church. The St Bartholomew's Bells will continue to ring before our services and thanks to our team of ringers for providing this. This means that Heather Hartley's funeral on Friday 8th December at 11:00 am will still take place at St Bartholomew's. Please, if you are coming to that service wrap up warm, wear hats and gloves. A reminder as well that Peter Mains funeral will be on Monday 4th December at 12:30 pm at St Lawrence Church.

On the 30th November Ven Neil Warwick a former curate in the benefice was consecrated as Bishop of Swindon at Canterbury Cathedral. If you would like to watch the service here is the link Bishops Consecration Service at Canterbury Cathedral

This weekend we are holding our Christingle Services across the benefice. Starting with Christingle making this Saturday morning from 10:00 am at both the Community Centre (meeting room 2) and Chantry House - all ages are welcome to take part. Then Saturday evening at :00 6pm we have Christingle at St Mary's Easton Neston and on Sunday at 4:00 pm at St Lawrence Towcester and Greens Norton Community Centre.

On Saturday from 10:00 am till 2:00 pm at the Towcester Methodist is a Festival of Nativities. Lots of different groups from Towcester and the surrounding area have created nativity displays - including both Little Sprouts (Towcester) and Tots Own (Greens Norton). See photo below of Teddy one of our Little Sprouts dropping off their nativity.

Also during the day on Saturday we have Greens Norton Primary Christmas Fair from 2:00 pm to 4:00 pm in school. Do consider going along to support them with festive treats and an early appearance from Father Christmas.

Then on Saturday evening at St Lawrence the Towcester Choral Society have their concert 'So Many Stars' featuring Stella Natalis by Karl Jenkins. Details of how to get tickets are on the poster.

Great to see those who have joined us for the Advent Course this week. It's not too late to come along this week. A reminder Monday is in Bradden at 2:30 pm, Tuesday both 10:00 am and 7:30 pm are at the Chantry House in Towcester and Friday 10:00 am is at St Thomas More.

Starting on Sunday this week and every day in Advent to 23rd December, Revd Angela and Chris will be offering Compline, or Night Prayer, on Zoom from 9:40 pm to 10:00 pm throughout Advent. The zoom code is the same as we use for daily prayer and Sunday zoom services. The mediations used will be by Richard Rohr, a Franciscan priest, from his book "Preparing for Christmas".

If you know anyone who lives in the Benefice who will be on their own this Christmas please consider telling them about the Christmas Day Lunch pack. This year we plan to deliver up to seventy meals to single people and couples who are on their own Christmas Day. The cut off date for order is the 11th December. We are having to stay this year within the Benefice as we rely on volunteer drivers who deliver on Christmas Eve. A huge thank you to Waitrose Towcester for their support and to Jenny Lunn and Paul Bestwick for all their organising and planning.

Don't forget to pick up a flyer from church with details of all the services across the benefice in it. Do pick up a few copies, one for yourself and one or two to share with neighbours and friends. Details of the additional services are below in this mailing and on our website, posters are going up in our churches and are on our social media feeds (Facebook and Twitter) under @tovebenefice. All the advertising is one thing, but it is the personal invitation from each of you that will turn a 'we've seen the poster' to a 'we're going, let's find out more.'

Finally, I am sure you will join me in wishing Chris Williams, sacristan from Towcester, a very happy 80th birthday this past week.

With my prayers,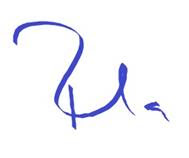 Revd Paula Challen
Rector, Tove Benefice
Photo from this week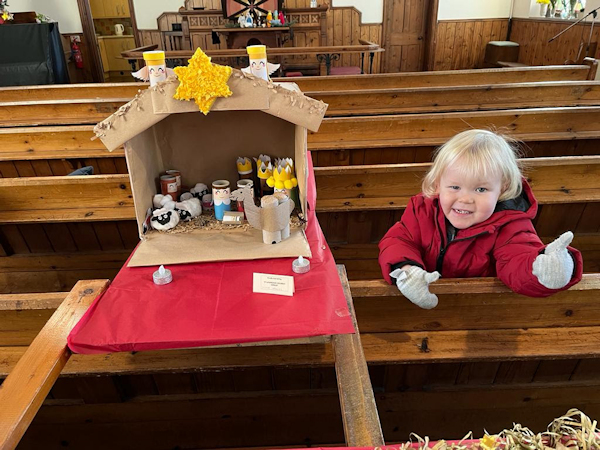 Worship for this coming week
3rd December 2023
The First Sunday of Advent
There is a link at the bottom of this page or can be picked up in church.
Zoom Services:
PLease

click here

and follow the on screen instructions.
The meetings rooms are opened about 15mins before the service is due to start. All the liturgy for the service will be displayed on the screen.
Sunday 10:15 am Benefice Sunday Worship
Monday to Saturday 9.00 am Morning Prayer (except on the first Tuesday of each month)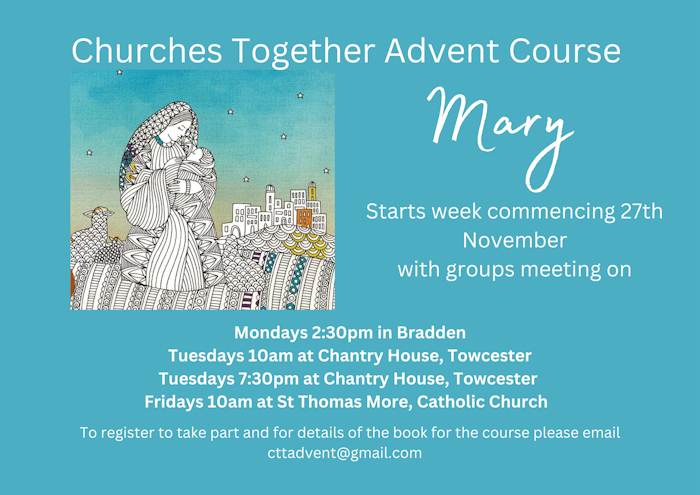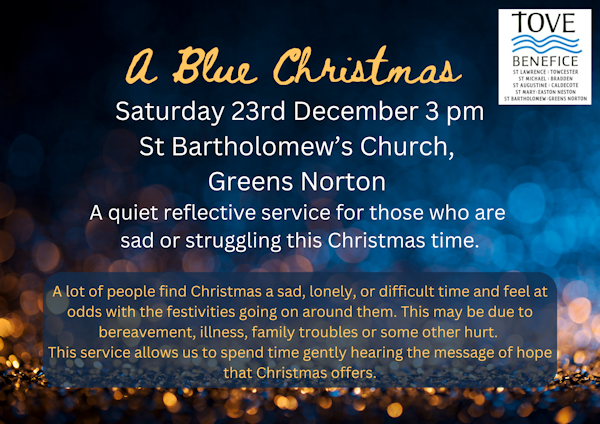 Benefice Office Opening Times
9.30 am to 1:00 pm Monday to Friday

Don't forget that the Weekly News contains details of this weekend and next weekend's services, daily bible readings, prayer requests and notices for forthcoming events in the Benefice and for Churches Together in Towcester, together with other relevant or interesting notices. If you know someone who doesn't have internet access, please could you print a copy up and pop it through their door.

For details of how to make a donation to your local parish church, please click here.