Towcester Foodbank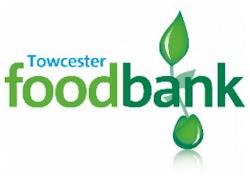 Not Just Beans and Pasta
Ask most people what they think the foodbank needs and they will say baked beans, pasta and soup. These are all simple, cheap foods to fill hungry people. Consequently, these three products sometimes account for nearly half of all donations to our food bank. Our storage space is quite small, so we really can't afford to keep large stocks of anything. If we get just 20kg of surplus pasta a week, that will turn into a tonne by the end of a year. That's about a quarter of our whole storage unit.
We have a standard list of over 20 food items we give to our clients, making a reasonably balanced diet. Where possible, we also like to help out with pet food, toiletries and household products like washing powder. Getting the right stock level for all of them can be quite a challenge. If you would like to donate, please check our Facebook page, website, or the collection boxes in Waitrose and Tesco to see the latest update on what we need.
Some of the items are expensive so we understand why people are reluctant to give them. A single jar of instant coffee once a month might not feel so generous, but it can be more useful than a weekly four-pack of beans or soup. However, whatever you give us will be appreciated.
****
Our local community is so generous supporting the Foodbank with both food and financial donations, it is hard to single anyone out. But there is one person we would really like to mention, and that is Katie Coates who raised £100 by doing a sponsored bounce. Not bad for a seven-and-a-half-yearold!
Thank you to Katie and everyone else who has supported us.
Opening hours:
Tuesday 12.00 noon to 2.00 pm and
Friday 10.30 am to 12.30 pm.
Come and collect your bags if you can, we'd love to see you! But we will still deliver if necessary.
Towcester Foodbank: a great way to support your community.
#Towcesterfoodbank
info@towcester.foodbank.org.uk
07724 832043
www.towcester.foodbank.org.uk