This Week's Notices
Week beginning 19th August

Pimms and Puddings in the Chantry House on 1st September at 7.00 pm.
£5 a ticket for a one pimms and one pudding (or two puddings or two pimms) from the Benefice Office.

Messy Church
Sunday 2nd September, 2.30 pm until 4.30 pm at St Bartholomew's Greens Norton.
Fun, craft, games, music, food and Bible Story on the theme of "Fruits of the Spirit".
A free activity for all ages.
Children must be accompanied by an adult.
Sign up on the sheet at the back of Church or call Rev Ben on 01327 350459 to book your place.

Harvest Lunch at Bradden

Thursday 6th September, 12:30 pm to 2.00 pm at Bradden Village Hall.
Following the success of our Lent Lunch we are having another this Harvest.
This time our guest speaker will be from the Hope Centre in Northampton speaking about the work they do.
Suggested donation £5 for your broth and bread lunch with profits being divided between St Michael's and the Hope Centre.
For further details please contact one of the PCC or Revd Paula.

St Bartholomew's Harvest Supper
28th September, 7.00 pm for 7.30 pm.
Tickets £5, under 15 £3.
Please bring your own tipple glasses and cutlery.
Soft drinks will be available.
Greens Norton Village Hall tickets available form Church.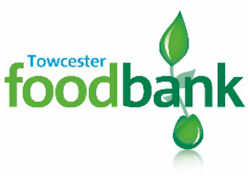 Foodbank are looking for new trustees.
Please see the notice at the back of Church for details or speak to Rev Lulu.
Towcester foodbank needs to replenish its stock of the basic foods which go into the bags.
We are running low on many of these items.
We invite you to give donations of pasta, rice, custard, tinned meat or fish, tinned spaghetti, tinned fruit, sponge puddings, UHT milk, sugar (500g), jam and biscuits.
Please check that the items are well within date.
Donations can be left at the Church or at Tesco or Waitrose in Towcester.
Thank you for your continued support of the foodbank.

Dates for the diary
8th and 9th September - Heritage weekend - special services at Easton Neston Church.
Easton Neston Church open from 11.00 am until 4.00 pm.
9th September Choral Evensong at St Mary's Easton Neston - all singer are welcome to join an ad hoc choir at 4.00 pm.

Things to do at St Bartholomew's
Wednesday 9.00 am - Totsown Tea and Toast
Thursday 7.30 pm - Bellringers
Saturday 10.30 am - Coffee and biscuits