Holy Week
Don't be a fool and miss out.
This year we get to Easter day on April Fool's Day, but if we think we can get to the delights of Easter with no idea of what led up to it then we are truly fools.
Holy Week takes us on the true journey of just how much God loves us.
This is seen in the Passion, the life giving love of Jesus and his journey to the cross.
Please think ahead and plan how you are going to make it a Holy Week.
It might include some time quietly in the Lady Chapel in Towcester joining Jesus in the Garden of Gethsemane but admitting that we do often desert him in the end.
Ideally do sign up to fill a time slot on the rota, but you are welcome just to turn up.
In the end we all leave, but yet He still gave himself for us.
It may be coming to one of the meditations each day reflecting on an aspect of the journey.
You will be welcome.
We wish you a truly blessed Holy Week.

Annual Parochial Church Meetings
Annual Parochial Church Meetings are approaching.
Please check your name is on the Church Electoral Roll.
Please pray for the church council members.
Could you take part in one of our committees and/or planning and action groups?
Find out who is standing as Church Warden, could it be you…
St Bartholomew's Annual Parochial Church Meeting is on Sunday 15th April 9.30 am with coffee and croissant before the service.
St Lawrence Annual Parochial Church Meeting is on Sunday 15th April 11.00 am with coffee after the service.
St Mary's Annual Parochial Church Meeting is on Saturday 7th April 6.00 pm.

The Choral Society will be performing Mozart's Requiem, Mozart Clarinet Concerto and Vaughan William's Five Mystical Songs on Sunday 25th March 7.30 pm at St Lawrence.

Children's Church at St Lawrence

We are encouraged by Children's Church so far, and thank God for answered prayers that children have come along and seemed to enjoy themselves, and more importantly seemed to have understood what has been covered so far.
We are enjoying using the Jesus Storybook Bible and think the children are too!
For those who don't know, each session has some material to go through together and includes a slot where the book can be read or a short DVD session watched.
Hannah Godwin has been an enthusiastic and helpful person to have in the sessions.
Session 1: Six children from two years up to 9 (Nic has all the attendees and their ages recorded in a register if you want to know!) and 2 accompanying adults.
We introduced the Bible and covered the fact that there are 66 books in the Bible, which are about Jesus.
The Old Testament points to him, and he is the fulfilment of all that is promised in it.
We also sang a couple of songs together.
Session 2: The ages ranged from four to nine years.
Five children came with one accompanying adult.
The session covered creation, and the children learned that God made everything and that it was good, and that the climax of creation was Adam and Eve, whom God loved.
The children drew some lovely pictures of the steps in creation - trees, animals, birds, fish... and people!
The plan is to display what the children have been doing at the back of Church.
We have had feedback sessions in Church so that the Church family know what the children have been doing.
We hope and pray that this will enthuse everyone about Children's church, encourage everyone and help to focus people's prayers.
Please pray that God will continue to bring children along, that they will have fun, that we will explain things clearly to them, and that the children, their parents or carers and the Church family learn more about Jesus, know and love him more through what is going on.
If there is anything else you would like to know please ask.
Becca

St Lawrence Tower
There is an ongoing project to ring to remember all the bell ringers who died in WW1, and who are remembered in the Central Council Rolls of Honour housed in St Paul's Cathedral.
We thought there was only one from this area, being one of the Slarke family from Easton Neston in whose memory the treble bells were added there.
However the following has just come to light...
...found from a newspaper trawl carried out by David Willis.
His is quite a tragic story:
Gunner Mayo Townsend, Towcester, & District. Died 28/03/1918 age 38.
Royal Garrison Artillery 135th Siege Bty.
Service No.172843.
Commemorated at Aubigny Communal Cemetery Extension, France, Grave III. D. 7.
Baptised on 15/02/1880 at Cold Higham, Northants.
Son of William Townsend and the late Rosanna Townsend (died 1881) and step-son of Ellen Townsend.
Husband of Ellen Townsend (née Basford), whom he married in 1910, of Islington Road, Towcester.
Father of Frank Townsend, Olive Elizabeth Townsend, Florence Mabel Townsend and Elsie Townsend.
He joined the Towcester & District Association in June 1912.
At the time of the 1911 census he was working as a shoe finisher at C & E Lewis in Towcester.
From the 1911 census it shows that his household included his widowed sister in law Angelina Townsend and her three sons, William Frederick Townsend, Harry Townsend and Herbert Townsend.
Two of these, Private William Frederick Townsend, Yorkshire Regiment, not known to be a bellringer, also fell, on 23/04/1917, and is commemorated on the Arras Memorial, France, and Private Harry Townsend, Lincolnshire Regiment, not known to be a bellringer, also fell, on 24/10/1918, and is buried in Ovillers New Communal Cemetery, Solesmes, France.
Born: Cold Higham, Northants.
Enlisted: Towcester. Resided (1911 Census): High Street, Towcester.
A peal will be rung on the day of his death Wednesday 28th March, in Holy Week starting at 4.00 pm.
This will be halfmuffled, one side of the clapper wrapped in a leather pouch.
This has a stunning effect and means anyone falling out of sync is a real clanger.
The effects are hard to undo.
We remember the costs of love and service given and the lengths God's love to bring a channel of reconciling love which we are invited to celebrate and receive.

Pilgrimage to the Holy Land

Following in the Footsteps of Jesus.
We invite you to join us in November 2018.
Why go on pilgrimage?
It is always good to set aside time for God.
He always is there for us wherever we are, but to travel deliberately to the place where he touched the same earth opens up deeper resonances to us.
This experience can help us find new insights into the Gospel – the Good news of God with us and God for us.
It can freshen our reading of familiar scriptures and strengthen us in following His call to serve the world He loves.
Israel/Palestine is the place where lives were touched and changed 2000 years ago.
Today still, amidst much richness, dispute and pain, "living stones" of hope are found there.
We will hope to encounter some of those through the contacts Lightline has and encourage the beleaguered Christian community.
We pray you will be able to join fellow pilgrims, get to know them, yourself and our Lord more and find this a blessed part of your journey in life.
Ben Phillips , Lulu Pelly and Paula Challen. Clergy of the Tove Benefice
Click here for more information...

Vacancy for Treasurer
The Churches Together in Towcester work well together doing many vital events in schools and in the town.
We need a treasurer for this group.
It is a simple set of accounts.
Could you help please?
Talk to Ben or Lulu or John Lindsay.
John is having to standdown because of his eyesight.
Baptism and Confirmation Candidates with Bishop Donald and Benefice Clergy
Rev'd Lulu, David Tarbun, Rev'd Paula, Debbie Oliver, Rachel Carrington
Nadine Muir, Shane Muir, Bishop Donald, Catherine Tarbun, Eiron reid
Ashton Muir, Imogyn Muir, Nadine Muir, Shane Muir, Fr. Ben and baby Clara

Saxon Fair

This was a very blessed day.
After so much rain the day before during the setting up we were blessed with perfect weather for hot food and ice cream.
The generous sponsorship of SNC and others enabled the re-enactors to be there.
They were enthusiastic, informative and engaging.
I was amazed that a small wooden crate with a pair of bellows could get a furnace going reaching temperatures of over 1000 degrees Centigrade enabling steel to be forged.
Thank you to Martin Johns, Paula Challen and all the 917 committee.
Also, huge credit to the Churches Together team of Helen Castle, Oliver Low, and Arthur Hughes who had recruited a huge range of talent to offer calligraphy, storytelling, prayer opportunities and much more during the whole event.
Thank you to everyone who took part or who came and supported.
There was much laughter, fellowship and community.
Alleluia.

St Lawrence Patronal Festival
A huge thank you to Rona and all her flower arranging team for a stunning exhibition on Towcester through the Ages.
It was an amazing experience to see the creativity and talent in our midst together with the fascinating history of the famous people born and bred in Towcester who went out into the world to achieve great
things.
What an inspiration to us all!
Thank you too for the very hard work in providing Cream Teas, Tombola, Children's Activities, BBQ and for selling Raffle tickets and for the beautiful 917 Cake.
We enjoyed good worship on Sunday morning supported by the Towcester Studio Band and on Sunday evening led by the Benefice Choir.
It was a joy to meet visitors and to share St. Lawrence Church and for us all to see it in all its glory.
Reverend Lulu

It's Your Move Books
These were given out to all Year six children along with a carefully prepared lesson around it on behalf of
Churches Together in Towcester which we all fund and are part of.
Thank you.
This was a great privilege to be able to be with all these children.

Prayer Bus and Prayer Spaces
If you have not seen the feedback we have had from the schools please talk to Paula.

St Lawrence Church, Towcester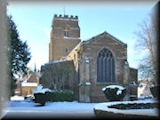 The Church is open for you every day from 9.00 am to 5.30 pm at least.
It is a lovely place to find peace and many people make use of it.
Do join them, but please be aware, we have unfortunately suffered from very occasional anti-social behaviour, attempted thefts and damage to the building.
If you see anyone acting suspiciously please do call the church office or vicarage 01327 350459.

Churchyard Working Bees
Nothing makes a community like working together on something.
Fortunately, we have opportunities galore for this.
All our Churches come with churchyards which need tending and caring for.
St Bart's and St Lawrence have a tradition which needs building up of the first Saturday morning of the month.
This has slipped in Towcester.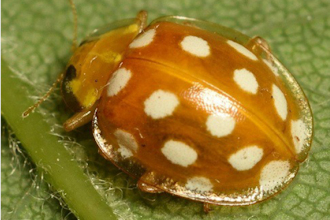 From September, there will be renewed vigour and the offer of sausage sizzle after a morning's work. Please come and bring your own weapons of war, pruning hooks, secateurs or whatever to add to our resident armoury already here for those who come on foot.
Please put these dates in your diary 7th October, 4th November, 2nd December.
There are ash trees and elders sprouting in comers of graves and paths which need to be removed, ivy galore, satisfying drain clearing moments, refined deadheading, bonfire tending and much much more.
If you are not physically up to this we would love to have a coffee maker, BBQ tender, list keeper or foreman, and someone to advertise and remind and invite us.
Please feel loved and wanted.
And the good news is, if it rains we have a list as long as your arm and cobwebs specially provided for us to have an opportunity for inside church building working bee instead.

County Chaplain
Revd Lulu Pelly was inaugurated as the Northamptonshire chaplain for the St John Ambulance last month.
This amazing organisation which does such important work teaching children and adults to save lives has deep Christian roots.
Do encourage Lulu in this role

Support The Tove Benefice Website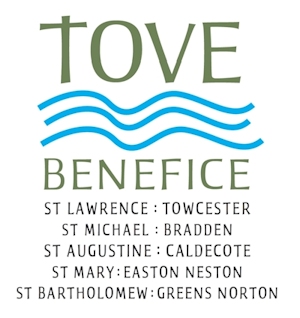 Activity on the web site continues to increase, but the site would still benefit from your input, comments and feedback, even if it is only to suggest the removal of obsolete material.
It is easy to make contact by using the "Your Comments" tab at the foot of the menu or via the Benefice Office.
It is vital for the Church to communicate in as many ways as possible and it is important to have social media accounts, but they do not replace the Benefice web site, as there are major differences.
If someone is trying to find information they tend to search the Internet looking for the relevant web site as this gives the searcher confidence that this is the right place to find out about the Church or Benefice.
Social media is great fort those who know about the Church and perhaps existing Church members, but for the Churches of the Benefice to be discovered by those within the local area, and those outside, who probably do not know that we have social media accounts; the web site provides a guiding light.
The web site contains information such as contact details and maps that verify that the searcher has found the right information they are looking for, which is important as so many Churches have the same names.
ToveBenefice.org.uk provides details on service times, forthcoming events, reports on past events, photographs, virtual tours and other information essential to someone trying to find out about the Benefice and its Churches.
Much of this is not easy to communicate using social media as the platform is completely different and rapidly changing, so I appeal all to participate in the web site and pray for its continues success.

The Towcester Prayers
Jenny Lunn, our own resident poet, has had her work published in this beautifully presented paperback.
It sensitively and inspiringly covers issues from pain and purpose to care, community and thanksgiving.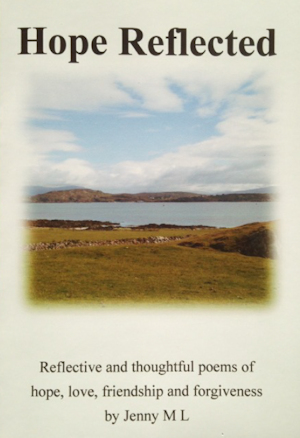 Published by the Unboring Book Company of Northampton is hot off the press.
They are available from the Church Office or from Jenny, at a cost of £2.50, all profits go to St Lawrence.

Hope Reflected
Jenny Lunn has produced this new collection of poems to compliment her earlier book of Prayer Poems, both of which are available from the Benefice Office and the Library at £2.50 each.
Coffee Mornings

Don't forget our Friday coffee mornings at the Chantry House and Saturday coffee mornings at both St Bartholomew's, and in the Chantry House, Towcester from 10.30 am to 12.00 noon.
You will be warmly welcomed whether you are a regular or here for just today.
Join in the chat and enjoy the refreshments.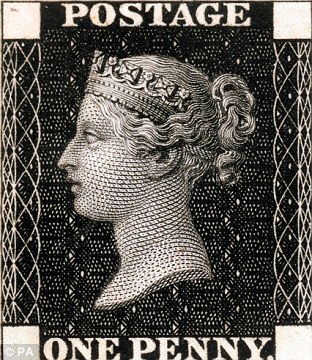 Used Stamps
Silverstone Primary is collecting used (including gold and white postage labels on parcels) for the RNIB who use them to raise funds.
It would be much appreciated if you could save any you get and drop them to the Chantry on an on-going basis.
Lee will pass them on.
Thanks in advance.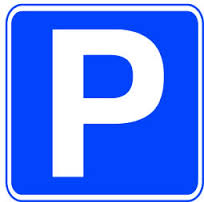 Parking on Sundays at St Lawrence
We all tend to think of our own needs when behind the wheel of a car!
I know there are different complicated reasons behind each person's choice of parking place.
Can I though please ask, if you are fit and able to walk and not offering a lift to someone with mobility needs, can you please offer a servant ministry and park at some distance from Church and walk the last part?
The Mill have kindly said we can use their car park on Sunday mornings and you are welcome to go for a
drink after Church if the sermon has gone on long enough.
We hope to leave several spaces for those less able to walk.
I would like to keep one space for blue badge holders and be mindful and caring of those who struggle to
reach us in this way.
Thank you all so much.